If you would like to post jobs please email your ad to ads@midaa.org
NOTE: MDAA posts requests as a FREE service to dental assistants and dentists. MDAA does not screen or take responsibility for ads.
 09/09/20- Rochester Hills, Part time or full time chairside assistant needed.
                                                            Looking for exceptional Dental Assistant
Rochester Hills Family Dentistry is a two-doctor dental practice providing patient-centered and high-standard comprehensive dental care.   Founded in 1976, this multigenerational practice provides a wide range of treatment ranging from cosmetic to surgical procedures with the aid of digital radiography and management software.  The team consists of highly educated, personable, and caring dental professionals who have long-standing relationships with our patients and each other.
We are seeking an experienced and enthusiastic full-time or part-time dental assistant for a long term position, and are offering competitive pay/benefits in a good working environment.  Applicants should have experience and be a team player.  
 Attitude, not aptitude, will determine your altitude.  
1 year experience and x-ray certification preferred 
Job Duties include; assisting doctor chairside with endodontic, and general dentistry procedures, taking impressions and x-rays, sterilization, ordering supplies,  record keeping, assisting the front desk as needed. Providing a great patient experience.
The culture of this work environment is team oriented, friendly,  supportive and professional.
Benefits include
401K / 401K match
Dental Insurance
Paid holidays and Health insurance negotiable.
Employer Details – Rochester Hills Family Dentistry
Contact info – Melissa Thomas 
Phone – 248-321-1625
Contact Email – melissarhfd@gmail.com
Location – 480 W. Tienken Rd.,   Rochester Hills, MI 48306
 08/18/20- Brighton Perio Office needs Extra Hands and a Smiling Face !:)
Perio Office needs Extra Hands and a Smiling Face! 🙂
Work for a privately-owned practice where personal connection matters!  We are looking to add to our great team with someone who is willing to fill in where needed.  This might be answering the phone, sending emails, cleaning rooms, helping chart, or seating patients.  The ideal candidate would have assisting experience and be willing to help up front  also.
We are a chartless office (Eaglesoft), so good computer/typing skills are essential.  I love to teach and will train if you are truly dedicated.
Location:   8641 W Grand River Ave, Brighton
Hours:  Office is open Mon, Wed, Thurs 8-5 and Tues, Fri 8-2.   We begin with a morning meeting at 7:45.  Hours are flexible for this position, but must have Fri availability starting in October.
Benefits:
Competitive pay equal to skill set
Paid holidays after 90 days, paid vacation and personal time
Uniform allowance
Continuing education
Free/discounted dental services for employee and immediate family
Flexible spending account (FSA), IRA contribution
Jill Doan, DDS, MS
8641 W Grand River, Suite 8, Brighton MI 48116
(810) 220-2789 tel, (810) 220-4935 fax
 08/08/20-  (2) Dental Assistants Needed  -Oral Surgery Practice, Grand Blanc.
Dr. Hukill's oral surgery practice in Grand Blanc is in need of two full time dental assistant to work 36 hours per week. They have a new associate, Dr. Jeff Link. If you are interested in applying please drop off a resume or call Shelly at 810-445-9590.
 07/18/20- Dental Assistant Needed ASAP-Pediatric Practice, Flint.
InGrace Dental Clinic, a pediatric office, is looking to hire a dental assistant ASAP. This office has very helpful and friendly staff. We use Eaglesoft and use digital X-rays. Our office is growing rapidly and we need an extra hand. We are looking for a competent dental assistant who will make InGrace's office more efficient and pleasant for patients. Hours will be Monday-Friday from 9-5, sometimes longer hours may be needed as each patient may need extra time. Pay rate is negotiable and based on experience. Please email your resume to:
 07/17/20- Dental Assistant Needed-Berkley, MI.
Part-Time Dental Assistant needed in the office of Dr. Sara  Ruddy. Position is for Monday 10:30-7, Tuesday from 8:30-5 and Thursday from 8:30 until approximately 3 and the Thursday hours are somewhat flexible.   Previous radiography training beneficial.  Previous chairside experience a plus, however, willing to train the right person.   
Please email resumes to:     seruddydds@gmail.com
Part-Time Dental Assistant needed in the office of Dr. Sara  Ruddy. Position is for Monday 10:30-7, Tuesday from 8:30-5 and Thursday from 8:30 until approximately 3 and the Thursday hours are somewhat flexible.   Previous radiography training beneficial.  Previous chairside experience a plus, however, willing to train the right person.   
Please email resumes to:     seruddydds@gmail.com
 06/25/20- Dental Assistant Opening at VINA Community Dental Center in Brighton
Part-Time Dental Assistant
We are looking for a highly talented Dental Assistant for general dentistry. This position is part time 2-3 days a week. Responsibilities include chairside dental assisting, sterilization, radiology certified, taking impressions, minor lab work, general and clinic maintenance. Requires at least 2 years of chair side experience. RDA or CDA is a plus. 
VINA is a non-profit 501 3c clinic, treating the low-income adult residents of Livingston County.  We work with University of Michigan dental students and hygiene students at certain times throughout the year. The clinic is run by a small staff and many volunteers. We are funded by grants, fundraisers and individual giving. We provide our patients with the highest quality of care. Our staff is extremely talented and genuinely cares about every patient as well as each other. 
Please send a resume and cover letter.
Typical Duties and Responsibilities
-Take and develop radiographs
-Prepare patients for treatment
-Assist doctor during treatment
-Perform instrument sterilization and infection control in office
-Clean and stock operatories
-Control inventory of clinical supplies
-Occasional clinical notes and treatment documentation in charts
-Willingness and ability to be a strong team member and display a positive        attitude
-Exceptional human relations skills of compassion and care
-Ability to work at a fast pace and be self-motivated
-Ability to maintain outgoing, friendly attitude with patients and staff under pressure
-Some knowledge of dental software
-Ability to speak and use dental/medical terminology correctly
-Ability to work with interruptions and to manage multiple priorities well
Skills
-Registered or Certified Dental Assistant preferred or at lease 1 year of chair side experience
-Radiology certification
-OSHA – Sterilization knowledge
-Knowledge of dental software
-MS Office
The ideal candidate will have a good work ethic, ability to handle multiple priorities and is a self-starter. Strong interpersonal and communications skills are required. Compassion and respect for others is essential.
Required education:
High school or equivalent
All resumes can be emailed to office@vinadental.org
06/25/20   Actively seeking Dental Assistants for the Kalamazoo, MI area.
Actively seeking Dental Assistants for the Kalamazoo, MI area.
Looking for somebody with:
High School diploma
One year certificate from college or technical school in Dental Assistant program is preferred or 3-6 months of related experience and/or training: or equivalent combination of education and experience.
Demonstrates knowledge in dental instruments, procedures and dental materials
Job Description/Responsibilities:
You will assist dentist during examination and treatment of patients. A typical day will involve cleaning and sterilizing equipment, setting up rooms for patients and providers, provide the dental hygienist with the proper tools needed to complete their dental work. You will also clean rooms, rotate patients out, and discharge them.
Hours:
Hours of operations, Mon-Sat, 7am-8pm.
MUST be able to work every Friday and Saturday from 11 a.m. – 8:00 p.m.
The other working days will be M-TH to make up the 40 hour work week based on shift needs. You could also work 4-10s. We are pretty flexible with scheduling — but you HAVE to plan to work every Friday and Saturday. Once the team is fully stabilized, there will be weekend rotations.
If you are interested in the opportunity, please email your resume to talberts@aerotek.com
06/18/20   Chairside Assistant Needed CDA/RDA Preferred-Flint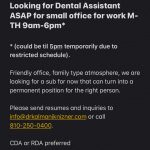 06/14/20   Dental Assistant Needed-Ann Arbor
LOOKING FOR A POSITIVE CHANGE?
SEEKING AN EXPERIENCED CHAIR SIDE DENTAL ASSISTANT TO JOIN
OUR AMAZING TEAM in Ann Arbor, 48103
IMMEDIATE AVAILABILITY FOR AN RDA/CDA (with 2-5+Years of chairside assisting experience)
SEEKING SOMEONE
Who can help patients feel comfortable,
has excellent communication skills
works hard, is punctual, is reliable
takes pride in one's work
wishes to stay at one location long-term
Must be able to work M-Th, with one evening
Preference given to candidates who reside within 10 miles of the office (48103)
We are looking for someone who is able to take accurate digital radiographs, use Eaglesoft software, take impressions, make temporary crowns, assist in restoring implants and other general dentistry tasks.
Established, medium-sized family practice with loyal patient base.  
2-5+ YRS OF EXPERIENCE in restorative chair side assisting preferred
GREAT BENEFITS
PLEASANT ATMOSPHERE
COMPETITIVE WAGES, commensurate with experience
State of MI Work share Program Eligible
COVID-19 SAFETY:
Our office is fully compliant with the CDC and ADA guidelines for COVID-19. 
Our staff  and Patients'  safety is very important to us. 
Full range of PPE available
We look forward to hearing from you!
PLEASE EMAIL RESUME AND COVER LETTER WITH YOUR GOALS AND A COVER LETTER TO FLOSSGOBLUE@GMAIL.COM
06/14/20   Dental Assistant Needed-Grand Rapids
Grand Rapids Immediate Opening for Part or Full-time Assistant
We are looking for a dental assistant to join our team. The position is preferably for full-time but we would be able to be flexible if you're a good fit looking for part-time. A well-qualified candidate would be personable, self-motivated, and have a strong desire to help others. RDA would be a plus. Competitive hourly rate with benefits. Please reach out to us with a resume at beckwithfamilydentalcare@gmail.com
06/14/20   Dental Assistant Needed-Ann Arbor
Do you consider yourself top talent? Are you looking for a brighter future; a clearer vision; a better employer? We believe it is our responsibility to find and nurture those talents for the benefits of our office, our patients and our team. We may be the right place for you!
Seeking a highly motivated and positive individual for chairside dental assisting. RDA/CDA license is preferred but previous dental experience is a must. The ability to analyze challenges, solve problems and create solutions is a requirement. This would be a full time position.
We offer employment opportunities that promote professional, personal, and financial growth. We work extremely hard to provide our employees with continuous professional development. We have a special work culture that we value fiercely. We have clinical team members between one and thirty years at our office. We value the energy of new and the loyalty of the veteran employee.
Required Qualification
High School Diploma or GED
Experience using computers and MS Office
Must be a "people person" with a great attitude and attention to detail
Must be able to incorporate constructive feedback/be coachable
Job Type: Full-time
Pay: $16.00 – $21.00 per hour
Benefits:
401(k)
401(k) Matching
Dental Insurance
Paid Time Off
COVID-19 considerations:
Note we are compliant with CDC and ADA guidelines. We are trained and compliant with OSHA guidelines. We have a COVID-19 contingency plan and manual for you to review.
Experience:
Dental Assisting: 2 years (Required)
Education:
High school or equivalent (Required)
Work authorization:
Additional Compensation:
Clinical Setting:
This Company Describes Its Culture as:
Team-oriented — cooperative and collaborative
Schedule:
Company's website:
06/01/20   Dental Assistant Needed-Mt. Pleasant
Dental Assistant Position available in Mount Pleasant, MI
Central Michigan Family Dentistry, PLLC
Dr. Derrek Henrie
Hours: Monday – Friday 7:30 am – 4:30 pm
Position Summary: Established dental practice searching for a hardworking, enthusiastic dental assistant in a friendly, family oriented practice. Looking for an individual who is experienced and motivated to learn also with a interest in working as a team player. The position is mainly working chair side with our doctor and creating a comfortable environment for our patients.
Assistant Duties:
Prepare each treatment room with following our standard of care and protocols. Provide each patient with information and instructions. Assisting the doctor with all treatment procedures. Taking and preparing radiographs- Scheduling future treatment appointments- Coordinating treatment with specialist, laboratories and patient. Maintaining a clean work space- Sterilization of all dental instruments and maintaining to OSHA standards- Organization of stock room and ordering of supplies as needed on a regular basis.
Experience:
1-2 years preferred
Compensation:
Negotiable depending upon experience
Paid leave
Simple IRA
Email your resume and references to janice@drhenriedds.com
06/01/20  Full Time Assistant CDA/RDA Preferred Port Huron 
Great opportunity for a trained dental assistant! Well-established family dental practice close to beautiful Lake Huron. Utmost sanitary precautions followed for all staff and patient safety.
Full time position needed – great pay with excellent daytime hours! CDA/RDA/experience preferred.
If interested, please email your information and resume to jamesfraserdds@gmail.com
Michigan Community Dental Clinics Inc.
A Registered Dental Assistant (RDA) performs a variety of Dental Assisting duties, within compliance of state regulations, to promote quality dental care for patients in a reduced stress, comfortable environment. An RDA assists the doctor, teaches patients how to care for their teeth, communicates effectively with patients, maintains equipment and inventory, and follows universal precautions and all OSHA and MIOSHA requirements to ensure a safe environment for patients and staff. As part of the overall clinical team, the RDA will assist all other staff members as required and available.
Typical Duties and Responsibilities
Assist the doctor during treatment
Prepare patients for treatment
Take and develop x-rays
Take diagnostic impressions
Perform instrument sterilization and infection control
Dental polishing and restoration placement
Clean and stock operatory
Control inventory of clinical supplies
Fabricate provisional restorations
Inventory control of laboratory cases
Make clinical notes regarding patient treatment
Place and remove rubber dams
Apply sealants
Remove sutures
Place amalgam restorations
Take final impressions for indirect restorations
Other duties as assigned
Knowledge, Skills, Abilities
Exceptional human relation skills
Ability to maintain outgoing, friendly attitude with patients, staff, and doctor even under pressure
Ability to work with interruptions and to manage multiple priorities
Ability to meet deadlines
Ability to work unsupervised
Ability to handle conflicts and get along with people
Knowledge of dentistry
Ability to maintain a professional demeanor at all times
Exceptional verbal and non-verbal communication skills
Computer skills i.e. Microsoft Word, Excel, Outlook, Dentrix, and Internet.
Radiology licensure
Experience with autoclave, suction, hand pieces, panorex, TMJ film, processor, plasma arc light, amalgamator, ultrasonic, vacuum form machine, O2/N20, air compressor, model trimmer, vacuum pump, amalgam separator, and hydrim, stamatic