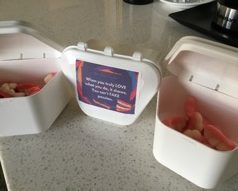 2018 
MDAA

 Student Day: Attention All Dental Assisting Instructors and DA Students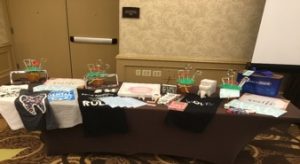 The 2018 MDAA Student day event took place on April 27th in Lansing, Michigan. We had 4 schools participate with over 60 attendees.
There were dental props available for the students to take photos and we encouraged them to post them on the MDAAFacebook page. As an icebreaker, we held a floss race that was extremely fun! We were fortunate to have the ADAA President Natalie Kaweckyj with us at Student Day and she brought greetings from the ADAA. The speaker for the day was Dr. Ona Erdt, who spoke on "Make Success Your Intent."
The winner of the Bush Essay was Jennifer Veiga. Her essay was titled "Giving Back." She was from Baker College of Clinton Township. This essay had most of us in tears.
The winners of the dental video contest were Samantha Kinney, Kathryn Rainwater, and Sara Young. Their video was titled "Dental Assistant Fairy Godmother."
The winner of the first dental craft competition was Kyra Yeargain and she made a tooth fairy out of dental supplies. Kyra was from Washtenaw Community College.
Each winner received a framed certificate, a small hand award, and a monetary award. All winners had their photo taken with the MDAA president and the ADAA President. All attendees were given a white denture cup filled with treats of gummy teeth inside. The denture cups were donated by Threasa Liddell of Benco Dental and the gummy teeth, decorations for the denture cups, and the Student Day programs were all donated by Dr. Ona Erdt. The dental raffle was once again a big success and each student was able to receive a gift.
Thank you to all of the Student Day Committee members: Karen Minca, Kathy Fick, Kristina Sprague and Barb Gurnee.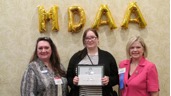 ADAA President – Natalie Kaweckyj, Dental Craft Contest winner – Kyra Yeargain and MDAA President – Deb Jaruzel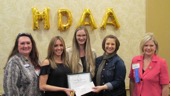 ADAA President – Natalie Kaweckyj, Video Contest Winners – Samantha Kinney, Kathryn Rainwater, Sarah Young, and MDAAPresident – Deb Jaruzel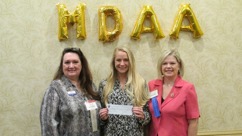 ADAA President – Natalie Kaweckyj, MDAA Scholarship recipient – Abbigail Maks, and MDAA President – Deb Jaruzel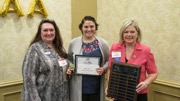 ADAA President – Natalie Kaweckyj, James Bush Essay winner – Jessica Veiga and MDAA President – Deb Jaruzel